InSPIRE-UIC Runs New Program With Leave No Veteran Behind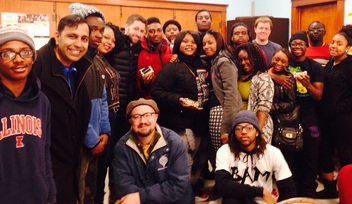 Students from all across Chicago's south side spent their Saturday morning boosting their confidence in Science, Technology, Engineering and Math (STEM) by building their own Solar-Powered Cell Phone Chargers from scratch with InSPIRE and Leave No Veteran Behind. Students from the UIC branch of InSPIRE came down to 76th and Saginaw in South Shore to teach students about circuitry, soldering and solar technology alongside veterans from Leave No Veteran Behind.
---
InSPIRE and Project Infinite Green Partner Up to Provide Innovative, Peer2Peer Edu-training Event at Academy for Global Citizenship
Excerpt from Academy for Global Citizenship Press Release:
"On Thursday, 50 middle, high school and university students gathered at the
Academy for Global Citizenship
(AGC) (4941 W. 46th St., Chicago, IL), an innovative Chicago public charter school located on the underserved southwest side, to learn about renewable energy, its importance in environmental stewardship and practical applications of sustainable technology. A dozen
Project Infinite Green
high school students led a lesson in solar energy design, and, alongside UIC student mentors from InSPIRE Illinois, helped students build their own solar USB charging stations. This peer-to-peer learning exercise demonstrates the inspired, innovative thinking of our children and how, with a little support, they can change the world.
Congressmen Dan Lipinski (IL-3,) and Bill Foster (IL-11) introduced the project, speaking from their backgrounds in and passions for Engineering and Physics, respectively. "As a former educator with an engineering degree," Rep. Lipinski said, "the eagerness of these older students to spark a passion for scientific exploration in others is to be commended, and will hopefully pay dividends for both them and their younger students."
---
InSPIRE and InSPIRE-UIUC Teach 2nd Grade Urbana-Champaign Kids How to Make Solar Fans
A class of Countryside School students in Urbana-Champaign spent an hour and a half on Wednesday learning about solar energy. Around 30 students were broken into groups of 4-5 and were taught by a combination of University of Illinois Urbana-Champaign undergraduate students and alumni alongside the Executive Director for InSPIRE.

The students were instructed on how to build a solar powered fan kit using copper tape, broken solar pieces and a hobby motor. All of the students were more than excited to become "solar geniuses" and share their knowledge with their family and friends!



---
InSPIRE Teams Up With Brown Dog Gadgets to Provide Next Level DIY Solar Kit to Help Students-Teach-Students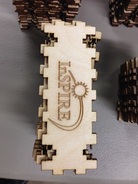 InSPIRE and
Brown Dog Gadgets
have worked together, along with funding from the Aunt Marlene Foundation, to provide a group of students with the DIY Solar-Powered Cell Phone Charging Kit 2.0. The group of Lemont High School students participate in a STEM-focused after-school program called
Project Infinite Green
, which aims to introduce students to the scientific and business aspects of creating clean energy solutions to the challenges that we currently face today.
InSPIRE will have the unique opportunity to teach the approximately 30 students how to build the Solar Kit from scratch, while focusing on the principles of Solar Photovoltaics, Circuits, Soldering and basic woodworking/assembly throughout the process. After the students successfully build the kits, they have pledged to turn around and teach other High School students from Joliet and a charter school from an underprivileged area in Chicago. This process will be not only interesting, but hopefully the first in a grassroots movement of youth-empowering-youth in the clean energy sector.
---
South Shore Students Finish DIY Solar-Powered Cell Phone Chargers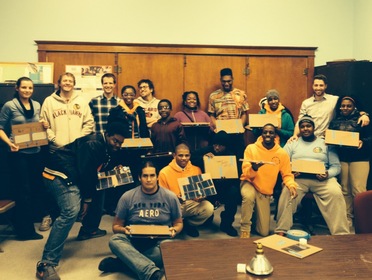 Over five days of after school work, students of the
Greencorps
after-school program have learned the principle of photoconductivity and its incredible potential when employed for harvesting the energy of the sun. The learning experience went from exploration of basic circuitry to philosophizing what a world would look like that is powered by
solar roadways
. Students also learned soldering, as well as, how to measure the voltage and current of a solar cell. The final part of the project employed all of these skills to successfully build their own solar-powered cell phone chargers based on a kit designed and provided by the InSPIRE Foundation. Emphasis was put on peer instruction with students supervising and helping their peers.
Throughout the project, students became more and more comfortable with solar cell technology and principles, which generated further curiosity and interest in the topic. Some students projected this new found interest onto sciences in general or let it lead them to inquire about career opportunities in the solar industry.

All of this would have not been possible without the incredible support of the
Leave No Veteran Behind
personnel. InSPIRE looks forward to continue providing opportunities to expose students to STEM, using solar energy as an edu-training tool.
---
InSPIRE Begins Work with Leave No Veteran Behind to Provide South Shore Students with Green Knowledge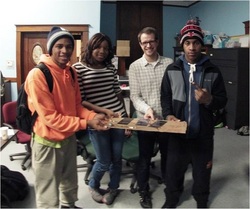 Students of the
Greencorps
after-school program led by
Leave No Veteran Behind
and InSPIRE show off their very own DIY Solar Cell Kit, that the students made to power a small fan with. In the coming weeks, each student will learn about basic principles of science through hands-on projects that use solar, and other clean energy as teaching vehicles. Each of the 30+ students will build their own DIY Solar Cell Phone Charging Kit that they can bring home to keep. They can show off both the technology and their knowledge during the holidays.
These STEM-focused projects will continue into 2014 and InSPIRE will begin to work with other prospective high schools as well to further increase the impact of the Solar Kit Series developed over the past summer by the team of interns.
---
Former Petty Officer Rob Walker from Leave No Veteran Behind Speaks at InSPIRE Advisory Board Meeting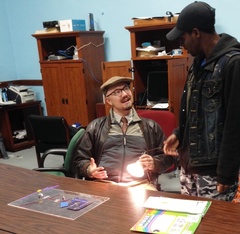 Former Petty Officer and Director of Special Operations for Leave No Veteran Behind, Rob Walker explains the capability of solar power to Roy Johnson, one of the GreenCorps students seen here at the location of InSPIRE's newest endeavor in South Shore, Chicago. Students will be assembling various take-home DIY Solar Cell Kits while learning the principles of solar technology throughout the rest of the winter. The DIY Solar Kits include a solar-powered fan, AA battery charger and even a solar powered cell phone charger.

Rob recently spoke at the quarterly InSPIRE Advisory Board Meeting where his ideas, passion and excitement were more than well received. InSPIRE's Executive Director Kevin Berliner will make weekly trips to the south side of Chicago to help teach the kids and assist in mentoring the eager, young high school students from all around South Shore.
---
Executive Director of InSPIRE and the InSPIRE Summer Interns Roll Out New University Training Tool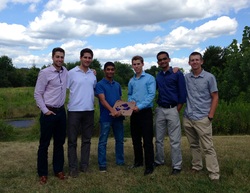 Executive Director of InSPIRE, Kevin Berliner, and Brian Oliversen, one of InSPIRE's Summer Interns explain how the DIY Solar Cell Kit was optimized over the summer (in three different models; (1) Solar Powered Fan (shown), (2) AA Battery Charging Solar Kit, (3) Cell Phone Charging Solar Kit). The kit will serve as a mentoring tool to the K-12 school each of the different university chapters works with. This will allow the college students the opportunity to teach the next generation of kids to learn-by-doing and get some hands-on experience with Solar Energy!

---
Sustainability Movie Series -- "From Imitation to Innovation"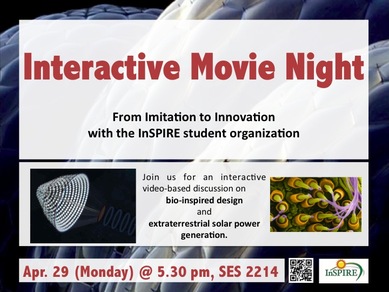 Students of UIC and IIT joined the InSPIRE Student Organization at UIC (InSPIRE@UIC) for their first interactive movie night. After weeks of preparation members of InSPIRE@UIC had chosen two movie clips centered around the topic of sustainability and green energy: A clip on the futuristic idea of
space-based solar power
and a clip on the incredible potential of
biomimicry
. Both clips were followed by short panel discussions where the audience and panelists bounced ideas and questions off each other creating a stimulating and energized learning environment. As requested by the audience, this event will continue to take place utilizing different university chapters as hosts.
---
"Get your hands dirty with Clean Energy!" --– First DIY solar cell workshop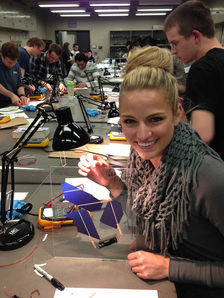 The student-led chapter of InSPIRE at UIC put on their first DIY solar cell workshop for the general student body. In this two-hour long workshop, students with no science or technology background were introduced to basic concepts of electricity and how to built a working solar cell panel out of scrap solar cell pieces. The students then attached a battery holder to their panel allowing them to charge an AA battery whenever the panel is exposed to sun light.
With this hands-on approach, important scientific concepts behind solar cells became easy to understand thus reducing a knowledge barrier that keeps people from seeing renewable energies and technology related to sustainability as important components of the future. It is right along the mission of InSPIRE@UIC -- which is to educate people about solar energy and sustainability -- to encourage learning by working on a fun, sustainability-related project.
Other student-led chapters of InSPIRE, for example InSPIRE@UIUC, will put on their own DIY solar cell workshop in the next semesters in order to share with even more people across Illinois this important knowledge.

---
President Easter gets InSPIRE'd
On April 9, 2013 the president of the University of Illinois, Dr. Robert Easter, visited the offices of InSPIRE in Bolingbrook, IL. He heard presentations by two of InSPIRE's student-led chapters, UIC and UIUC, and met with representatives of both. Attending leaders of InSPIRE, Dr. Siva Sivananthan, Raja Krishnamoorthi, and Dr. Chris Grein, as well as President Easter were pleased to see the recent developments and inquired about continuing the momentum.
Sharing ideas with Congressman Mike Quigley
Photo Credit: Roberta Dupuis-Devlin

On Tuesday, April 2, 2013 U.S. Congressman Mike Quigley visited the Microphysics Laboratory (MPL) at the Department of Physics at UIC where he met with students and researchers of MPL. The head of the MPL, Dr. Siva Sivananthan, and some of his students are actively involved in the InSPIRE Illinois Foundation as well as the student-led chapter of InSPIRE at UIC. Congressman Quigley, who is known to be an avid environmental advocate, thus also used the opportunity to learn more about InSPIRE during his visit to MPL.

He met with Raja Krishnamoorthi, the President of InSPIRE Illinois Foundation respectively, as well as the members of InSPIRE UIC student organization such as Eric Colegrove, who gave a quick demonstration of the group's Do-it-Yoursef (DIY) solar panel. Kevin Berliner and Damaris Kroeber, the Executive Director of InSPIRE and the President of the student-led chapter respectively, each gave a 5-minute presentations about the organizations' recent activities that included green energy awareness initiatives, working with the UIC and Chicago communities concerning solar installations and speaker series events, and mentoring high school students on their STEM-related activities.

The Congressman had the chance to meet members of the Robotics Club of Benito Juarez Community Academy who have been mentored by the InSPIRE UIC Student Organization on their construction of solar-powered robot.

The students, Martha Martinez, Jose Sanchez and Michael Martinez, presented their solar-powered robot and spoke about how working on the team had inspired them. All three hope to pursue careers in science or health care. After their presentation, the students successfully built their own solar panel out of scrap solar cell pieces under the instruction of members of the InSPIRE student organization.

New InSPIRE student organization plans for community outreach

Introduced at the InSPIRE Speaker Series (see below), a new InSPIRE student organization has become active at the University of Illinois at Chicago (UIC) hosting its most recent event on Saturday, March 16. Founding members of the InSPIRE student organization met in order to gain experience in the production of "do-it-yourself" solar cells from broken solar cell pieces. This knowledge will be transferred to students of all majors at UIC and the surrounding community in April, when a workshop will be offered. This initiative, among others, aims to educate the public about solar energy as a viable source of clean and reliable energy -- as is the mission of the InSPIRE student organization at UIC.

Slide Show from the InSPIRE Speaker Series Kickoff
Photo Credit: Roberta Dupuis-Devlin

Presentation from InSPIRE Kickoff Meeting

Local Solar News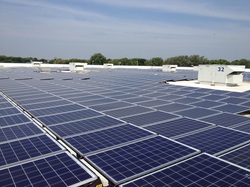 IKEA Bolingbrook recently installed Illinois' largest distributed solar installation of 4,784 panels. IKEA's solar installation project was undertaken by SoCore Energy, Illinois' largest solar sales source. Pete Kadens, CEO of SoCore Energy stated that he was, "excited to see large scale commitment to a clean energy future," and he hopes to see more in the near future. The photo to the right was taken during a tour and explanation of the solar panels the morning of July 25th, 2013 at the IKEA Solarbration. (Photo Credit: Kevin Berliner)
---
---